Spray Foam
Roofing

• High

Technology

• Low

Cost

Installing Sprayed Polyurethane Foam (SPF) roofing system on a new building, or retrofitting your older roof with an SPF roof can save you money in a lot of different ways. Most of the causes of additional roofing expenses don't exist when you have a foam roof system.

JW Player goes here

SPFA | Spray Polyurethane Foam Alliance | (12:30)

Watch the video to see SPF being applied and learn more about this high-technology solution to an age old problem.

Foam Roofs have no seams to split or pull apart and allow water to enter. Foam is ideal for saw tooth or other irregular roof shapes that are difficult or impractical for old fashioned low-tech roofing materials.

Sprayed Polyurethane Foam is also the best insulator on the market. Very little maintenance or repair is ever needed, and with proper care, it is the last roof you will ever need to buy.

Foam Roof Density and R-Value

Density of SPF is important when it comes to strength and Thermal Resistance. Obviously, higher density means increased strength and higher R-value. Most SPF roofs have densities ranging from about 2.5 pounds per cubic foot to 3 pounds per cubic foot.

Three pound density foam has a compressive strength of about 50 psi and an R-value of 7.14 installed and 6.86 aged (these numbers may vary slightly depending on the foam manufacturer.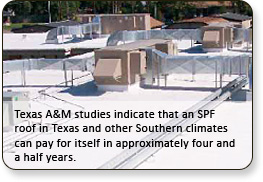 Here's an example of how well a good SPF roof insulates. A school district in southern Texas had recently installed some new, one-room relocatable classroom buildings.
During the late spring and early fall, these classrooms were using their air conditioners an average of 50 minutes every hour. The school district installed foam roofs on some of these classrooms in order to see if it would provide an energy savings.
The roofs consisted of three pound density foam, 1.5 inches thick with an acrylic coating system. The air conditioner usage was cut down to fifteen minutes every hour. That's a fifty-eight percent savings on energy costs.
SPF's Waterproofing Ability
Sprayed Polyurethane Foam is perfect for many different waterproofing applications. Because it is composed of billions of closed cells, the foam acts as an air barrier, preventing moisture infiltration into the building.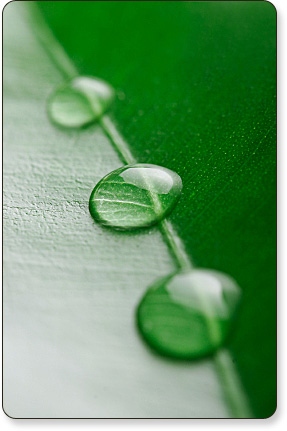 This ability minimizes dew point problems, which unchecked lead to water condensation inside of the structure. Moisture infiltration into the building envelope is the number one cause of building deterioration.
Even when the top coat of a foam roofing system is damaged, the underlying foam will keep the roof from leaking. The Superdome in New Orleans was damaged once in a severe hail storm. Thousands of hairline cracks appeared in the top coat, but no leaks ever occurred, even though it wasn't repaired for over a decade!
If a penetration does occur all the way from the foam layers, the water infiltration will be isolated only to the area where the membrane has been penetrated. Small penetrations in foam roofing systems can be repaired easily with an elastomeric caulk, reinstating the integrity of the system.
Water ponding is quite often a problem with conventional roofing systems. When applying the polyurethane foam in reroofing situations, it is very easy to build up areas of greater thickness while spraying so that water will drain properly. This also eliminates the problem of the additional weight load associated with water accumulation
What is SPF? (Sprayed Polyurethane Foam)
Sprayed Polyurethane Foam is a combination of isocyanate and polyol. These two components are fed through a proportioner which heats then pumps the two separate components to the spray gun, where they are mixed and sprayed onto the substrate.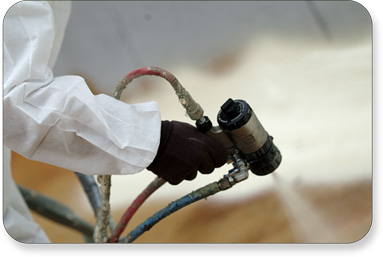 Because it is sprayed onto the roof as a liquid, it forms a single continuous structure that is seamless and very stable. SPF requires a clean surface for proper application. It must be dry, free of contaminants like oil, and properly fastened to the substrate in accordance with the proper building codes.
A protective elastomeric top coat is required which is typically sprayed on as well, but it is also possible to be applied with hand or power rollers.
Foam roofing has many advantages over traditional roofing methods, and as you read through this web site you will learn a lot more about them. Here are some brief examples:
Seamless: Polyurethane foam is applied as a liquid, creating a single monolithic membrane that covers the entire roof. There are no seams or joints, the source of the majority of leaks in traditional roofs.


Flexible: The foam can be sprayed onto virtually any surface, irregularly shaped roofs and protrusions are readily taken care of.


Lightweight: Foam roofing typically weighs around 50 lbs. per square, versus 800 lbs. for a built-up roof and 100 lbs. for ballasted single-ply roofs.


Thermal Insulation: SPF has the best insulating properties available for commercial construction today.


Sustainability: Foamed roofs require a minimum of upkeep, creating little waste and have an indefinite lifespan.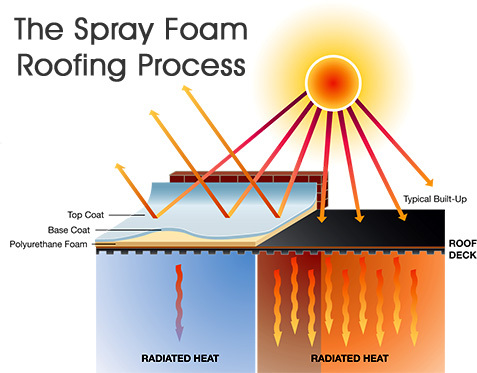 Polyurethane foam and our elastomeric coatings will SEAL and totally ENCAPSULATE your flat roof protecting it from the weather.
Localized repairs are made if required to the roof. It is swept free of debris and sprayed with a layer of foam. Then our acrylic elastomeric coating is sprayed on top to protect the foam.
The result is a totally encapsulated, weather proofed and seamless roof, protected for years to come. You will of course benefit from exceptional insulation as well.
Protrusions are a prime source of trouble.
Spray Foam self flashes to all protrusions (vents, pipes, etc...) There is no flashing tape or adhesive to peel away. The flashing becomes part of a seamless covering.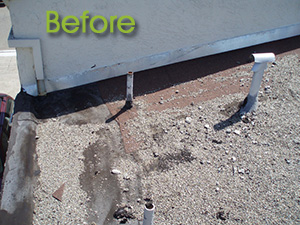 A foam roof system can also save you monthly on your monthly utility bills. You will realize the savings almost immediately after we have installed the foam roof system for you.
The Physical Plant Department at Texas A&M University (TAMU) Systems Facilities Planning and Construction department started monitoring their newly applied foam roof systems from 1980 to 1984.
Spray Foam Roofing is Sustainable
Architects, builders, and owners have created an awareness in sustainable building. This awareness has generated increased interest in the roofing industry to reveal a sustainable roofing system for commercial, industrial and residential applications.
A system that doesn't leak, supports energy conservation, and warrants the confidence of the building owner, engineer and architect.
High-density SPF roofing foam is a rigid, closed-cell plastic created by a combination of two liquid components, which react in seconds and can be walked on in a matter of minutes. These roofs provide high compressive strengths that increase durability, endure foot traffic, and resist impact and storm damage.
Life Cycle Cost
With the rising cost of building materials and the eradication of environmental resources it is not feasible or profitable to incur expensive annual life cycle costs or to replace a roof every 10 to 15 years.
The life cycle cost of a roof is defined as the present value of all the costs associated with the roof from initial installation until reroof. Sustainable roof systems are becoming increasingly important. Sustainable systems installed by Schrock Commercial Roofing preserve natural resources, reduce landfill waste and provide maximum life cycle cost efficiency.
The Truth About SPF
Over the years, sprayed polyurethane foam has collected a few misunderstood characteristics. Below are some critical pieces of information that debunk many of the myths you may have heard about SPF. Before you decide what material to use on your next project, please read.
Myth: Sprayed polyurethane foam won't last.
Reality: Research has shown that SPF roofs are long-lasting, successful systems that can last up to 50 years when applied and maintained with periodic low cost elastomeric re-coats. The National Roofing Foundation (NRF) performed a study in 1995 at Arizona State University that supported extremely high customer satisfaction and durability related to SPF materials.
Myth: SPF is not a proven material for roofing or other insulation.
Reality: Sprayed polyurethane foam technology has been around for more than 50 years, since it began to be distributed commercially in 1954. Polyurethane technology was initially used for refrigeration and industrial insulation projects, and has been perfected for use in residential and commercial applications of all kinds. Spray foam application is now prescribed for roofing and insulation needs all over the world and is applied with precision parameters for successful applications. The material is recognized by the National Building Code and has been proven to reduce penetrations to the building envelope.
Myth: Spray foam roofs can't be walked on.
Reality: You absolutely can walk on spray foam roofs. Both the Spray Polyurethane Foam Alliance (SPFA) and National Roofing Contractors Association (NRCA) assert that SPF roofs, when applied correctly can sustain up to 40 pounds per square inch or higher. A foam roof is capable of supporting the weight of any normal person, although any extremely sharp object could leave a hole that compromises the building envelope.
Myth: SPF can only be applied in perfect weather.
Reality: Sprayed polyurethane foam has been successfully installed all over the world, including every geographic region within the United States. The ideal temperature for the installation of an SPF system is between 60 and 120 degrees farenheit — the same requirement as any other roofing application. While any good SPF contractor pays very close attention to moisture levels, temperature, humidity and wind factors, Schrock Roofing, Inc. knows exactly how to maximize weather variables to get the job done quickly and seamlessly in any geographic region.
Myth: Spray foam is too difficult to apply correctly.
Reality: Schrock Roofing, Inc. is aptly certified to install spray foam systems efficiently and seamlessly to ensure the desired results. Over 500 contractors in the US are certified to install sprayed polyurethane foam roofs, but no one takes as much care to thoroughly train and certify every installer as Schrock does.
Myth: Insurance companies will not insure SPF roofing systems
Reality: SPF roofing systems are fully insurable and tested extensively at independent laboratories. For a list of recommended insurers, speak with a Schrock representative.
Myth: All SPF roofs are the same
Reality: Schrock can attest that unqualified and careless contractors have poorly applied foam materials, resulting in defective systems. By selecting a meticulous, experienced spray foam contractor, the results will be vastly different. Once the best materials are specified by design professionals, it is important to select the most qualified, experienced SPF installer in order to achieve maximum results. Schrock spends considerable time preparing roofing and insulations services to achieve maximum results.
Myth: Foam roofs are too expensive
Reality: Sprayed polyurethane foam is actually one of the most affordable roofing and insulation solutions, especially when you consider the cost savings associated with choosing SPF. Rising oil prices over the last decade have driven up the costs of other flat roof alternatives, while the cost of foam roofing has remained consistent. Once you incorporate the savings associated with a durable, long-lasting material, the extended life provided by elastomeric coatings, and energy cost savings, foam proves to be an extremely cost effective option.
Let us
help
Schrock Roofing, Inc. would be happy to answer all your questions and provide you with a free estimate tailored for your building. Call us at: (801) 901-3170 or use our confidential Contact Form.